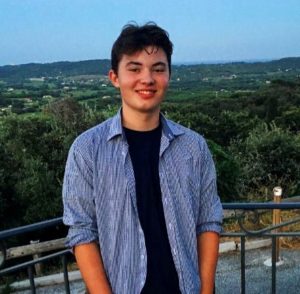 Hi!
My name is Adam Saxo Hummel Jensen. I'm 16 years old and I come from Copenhagen. I have lived in Copenhagen for 6 years now, because when I was 10 my parents got divorced.
Before I moved to Copenhagen, I lived in a small town called "Greve". I have been going to three different schools in my life. I first moved school in the 3rd grade. I moved to a school called Sankt Annæ Gymnasium. It is a music school where you sing a lot, so I have a lot of training in singing. Now I go to a "boarding school" in a very small town called "Fårevejle". It's a great school and I'm having so much fun, even though I have only been here for three weeks, so it's still very new for me.
In my spear time I like to play badminton, volleyball, having fun with my friends, and to just taking it easy and relax. After this year on my "boarding school" I think a want to go back to Sankt Annæ Gymnasium and take three years in high school. Sankt Annæ Gymnasium is a school with a middle School and a high school, so it's two in one.
But yeah well, I am a positive young boy and I think that I have a great life. The picture of me is from a day where my hair was really bad, so here you go haha 🙂
---