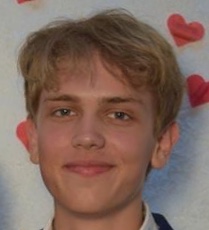 Hi, my name is Alfred, and I'm from Copenhagen. Currently I'm living in my efterskole, and I like it very much. I'm really excited about meeting you guys!
Here's a little bit about me. My full name is Alfred Nørremark Sommer, I'm 16, and I like to play music, football, and be together with my friends in my spear time. I'm a very positive person, I'm happy most of the time and I really like that.
So, as I said, I'm living in Copenhagen, in a town called Brønshøj. It's around 5-6 kilometers from the center of the city.
Throughout my life I have attended two schools (three now), and in some way, I have liked to study. I live with my parents and my two little brothers. Before I went to the efterskole, I worked at a local supermarket, where I did a lot of service work.
Here at my efterskole, I live in a house called Tjørnen, with 11 others and it's really fun to live together with others at the same age as me. I have a girlfriend living here too.
You can say that an efterskole is like a boarding school, where a lot of others from the age of 15 to the age of 18 lives, and has fun together for a year. We are going to school here, but there's a good harmony between school and spear time with the friends, so it's a lot of fun. In this year, we're going on three trips out of Denmark. First, here in October, we're traveling to Rome in Italy to learn about culture, and of course to have fun. Secondly, we're going on a ski trip to Sweden, where we're going to ski down the Swedish slopes, and I'm very excited about that too, because, I have never tried skiing before. I have heard a lot of good things about it. Lastly we're of course going to visit you guys in Iceland. I'm soooooo excited about going to Iceland this March, I've never been to a country like yours and it's going be a lot of fun, I can assure you.
In the future I think I would like to work with business or IT, but it's a hard decision, so I really don't know yet.
---