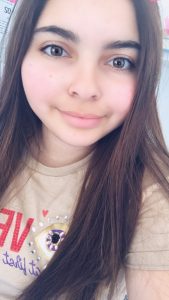 Hello, my name is Anita Shaya, I am 16 years old, I live in Denmark with my mom, and my sister, my parents are divorced, and I only see my dad twice a month. My mom named Samira, lives in a town called Frederikssund and my dad named Anan lives in a town called Slangerup.
I have a little sister named Angela and a dog named Flora. I used to have a horse named Malik, but I had to sell him.
I am new at this school, I started the 5th November, I live in one of the houses of the school named Asken and my roomie is a girl named Miriam. I live and hour away from the school, so I go home a lot in the weekend.
In my free time I hang out with my friends and watch Netflix, go out shopping and go out horse riding on my friends' horses. Almost every weekend I go horse riding, because it's something I love and when I started at Fårevejle School I didn't have time to ride.
I don't have a job right now, but I used to work as a stable girl, where I used to ride a horse, I borrowed.
I love travelling, and learning new language, right now I am learning Spanish and Swedish. I also love music and hear a lot of different kind of music, I am also trying to learn how to play the piano right now.
I am looking forward to meeting you.
Greetings Anita
---