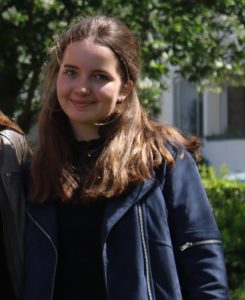 Hello. My name is Anna Jørgensen. I am 16 years old. I live in a town called Rødorve. I live in an apartment, alone with my mom.
I love being with my friends and I miss them a lot. Because right now I am going on a boarding school, which is called Fårvejle Fri- og Efterskole. At this school, we are living in small houses, boys and girls. We are living together, in a room, with a roomie. My roomie is called Silje. She is very sweet and we have a lot of fun.
I am in a class called 10+, where we are working mostly in groups with projects. My teachers are so engaged, happy, clever and funny. Right now we are working in groups on our first project. It is about the future.
In my spear time, I like playing soccer, being creative and being with my friends. So I prioritize that a lot here. My main subjects are girl soccer and arts. When I'm not in school and having my main subjects, I'm having fun with my friends. It is also important for me to have time for myself, so I am relaxing a lot too.
It was a little about me. I am looking forward to meeting you.
---