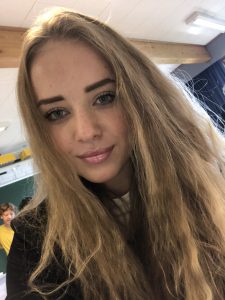 Hello my name is Cecilie Helfer Ingberg. I´m 16 years old. I live and go to school this year on Fårevejle fri- og efterskole. I'm attending the 10+ class with many of my friends and people from my house.
I have a lot of fun here on Fårevejle fri- og efterskole. I have gotten so many new friends here. They are like an extra family to me.
I have diabetes. I have had this for 10 year now. I try always to be happy and get everybody to be happy as well.
I live in the middle of Copenhagen, with my mom, dad, little brother and my dog. I also have a big sister, but she lives with her boyfriend and their child.
I love to Dance, read books and being with my friends. I love to travel and I have been to many different places, but I have not been to Iceland yet. I am so excited to come to visit you.
---