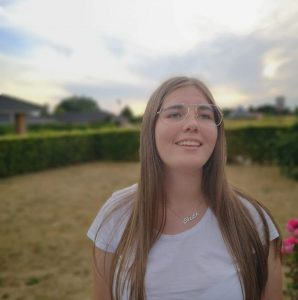 My name is Cecilie Olsen Johansen, I'm 16 years old. I'm from an island called Lolland, it's the 4th biggest island in Denmark. I've lived there my entire life, only moving once, from the countryside to a little town named Sakskøbing. At home I live with my brother, father, and mother. But now here at boarding school (efterskole is not exactly boarding school, but it's the closest word) I live with 11 others around my age in a little house, witch is called the Hawthorn (Tjørnen in Danish).
I used to work at a library, by shelving books and assisting people who didn't know how the computers worked. I sadly had to quit in summer, because I couldn't keep my job. I'm not a sports person of any kind, but I enjoy rowing and sailing kayak. I'm trying dance out this year, but I'm extremely tone-deaf. So that's a lot of fun!
I like to travel with my family. We've been to a lot of places, from Croatia to England.
It's relaxing to be on the road, I spend the time looking at the landscape and read. I like to read a lot, whether I'm on my way to somewhere, or just to relax quietly with music in my ears. I have a wide range of books I like, everything from action to sci-fi to cheesy romances. But I have to say my all time favorite genre is historical books. My favorite book of all is Mind Games by Teri Terry.
I like to have a lot of balls in the air, and have packed my schedule as much as possible. It makes me feel good when I have a project going on, or is just doing something with my friends.
But, as fun as that is, I also enjoy quiet evenings just small talking and doing nothing.
I'm a music lover and again a lot of different genres, from classic rock, to quiet songs.
I hope that gives a little insight into who I am.
Best regards,
Cecilie
---