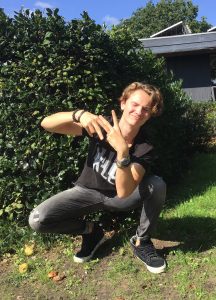 Hello my name is Christopher Sandvik Sommer and I am 15 years old. I am a student at Faarvejle fri- og efterskole. It is actually only my third week here so I am still new to this school as are all the others. If you don't know what an "efterskole" is, it is a kind of a boarding school. I basically live here. In addition to a boarding school an "efterskole" is much more about free time and spending time with your friends. The first weeks have been really fun and I have enjoyed it a lot.
I live in Hellerup, which is a district 15 minutes from Copenhagen. I also live in Klampenborg with my father. My parents are divorced that's why I live at two different places. At my moms house I have two pets, a dog and a cat. Amazingly they get along just fine.
In my spear time I like to go to the gym and be with my friends, and before I went to "efterskole" I had job as a flower delivery boy. Yes I know it doesn't sound that cool but it paid really well.
Before I went to Fårvejle efterskole, I went to a private school in Gentofte called Kildegård privatskole and before that a public school called Ordrup skole. The reason I changed schools in 6th grade was because I wanted to get a higher level of education so I went to the private school.
When I have graduated 10th grade I would like to go to gammel Hellerup gymnasium, which is like highschool. And when I am done with that I don't really know what I want to do, but I hope I will find out in the meantime.
---