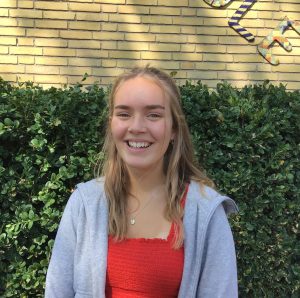 Hi, my name is Emilie Kjær Burchardt. I'm fifteen years old and I am from Ballerup, which is a city near Copenhagen.
In my spear time I play the piano, I especially love jazz. I've had lessons since I was eight. I don't just like piano, I love music in general – my favorite band is a Danish boyband called Scarlet Pleasure, and I like Drake and Stan Getz as well. When I'm not in school I spent time with my friends. We usually drink coffee, play card games, listen to music and then we spend a lot time in Copenhagen. It's such a wonderful city and it only takes 25 minutes from my home by train. There are so many things to do, places to visit and activities to do in the city. I especially like visiting small cozy coffeeshops, secondhand stores where you can get so many unique things at a very reasonable price.
I live with my parents and my brother in Ballerup. My parents are divorced, so they don't live together anymore, so I usually switch home every other week, so that I get to see booth of them. But right now I nearly don't see them because I'm at a "efterskole" which kind of reminds of a boarding school. This summer I just finished "folkeskolen" or state school, so I had to choose weather to go to high school or efterskole. I choose efterskole because it sounded like a great experience, and I'm so glad I did because I'm really enjoying life here in Fårevejle with all my new friends.
Hope you are doing well in Iceland, I'm looking forward to meeting you :))
Best regards Emilie
---