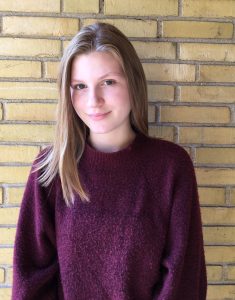 Hello, my name is Eva Sara Chapman.
I'm sixteen years old, and as you probably know, I come from Denmark. At the moment I go to Fårevejle Efterskole, which is a type of boarding school. It means that I live here during the week and go home some weekends, during the holidays etc. All the students live in small houses here, some are bigger than others. I live in a house with 11 others, we are 6 girls and 6 boys. I share a room with one girl. It's all very new, but I like it a lot already.
Here I do music, media production, play badminton, and lots of fun things with the other students. At home I have a mom, dad and a little brother named Thomas. We live in Copenhagen on an island called Amager in a house. I like living in a big town, there's always lots going on, and lots of things to do/go nearby. It takes me about one and a half hours to get there from the school. When I go home I try to see as many of my friends as possible, now that I don't get to see them that much it's harder to keep in contact.
---