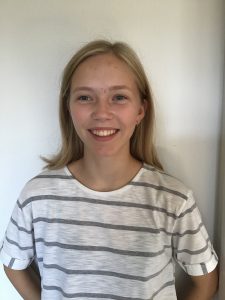 Hi Iceland!
My name is Iben Juul Ellehauge. I'm a 15-year-old girl (turning 16 in November), from Denmark. I live in a small city called "Nyråd", in the southern region of Zealand. In "Nyråd" there lives about 2.500 people. I live with my family consisting of: my mom, my dad and my little brother. My little brother is 13 years old. I don't have any pets, but I really want a dog.
But right now, I actually don't live at home with my family. I live at a type of boarding school. In Danish it's called "efterskole", which basically means "after school". Here I'm in 10th grade, but some of the people here are in 9th grade. We live at the school, in houses. In the houses we share our rooms with 1-3 roommates. I had one roommate, but she quit, so right now I'm not sharing a room with anyone. In the house we're currently 11 people. With 7 girls and 4 boys.
On my "efterskole" I'm currently taking a film and news production class. This class is once a week in 4 hours – it's really fun. I'm also taking Spanish (we haven't begun that class yet), and badminton.
In my spear time I mostly spend the time chatting with my housemates. Sometimes me and some of the other girls, go to the fitness, and train. We're not that good, but it's fun. I also really like reading, and watching YouTube. Sometimes I also draw, but lately I haven't really had the time, with so much going on at school.
I'm looking forward to seeing/hearing from you, bye
---