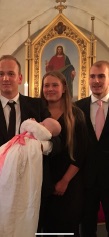 Hallo my name is Jamilla Spendler Horsdal. I am 15 years old. I live in Copenhagen, in an area called the northwest. I live mostly with my mother. My moms name is Caroline. She is 48 year old. I have a dog that is called Molly. I also have two hedgehogs. I also have a father. My fathers name is James. He is 55 years old. He lives on Østerbro.
I have 2 brothers. The youngest is called Keith. He has a girlfriend whose  name is Michella. They have a child called Tiana who is one-and-a-half years old. My other brothers' name is Kevin and he has a girlfriend whose name is Melanie, and they are going to have a daughter soon. Keith is 25 and Kevin is 27.
I like to play soccer and I have played it for 7 years but I have taken a break for 3 years. I just started on Fårevejle boarding school where I am taking soccer classes.
---