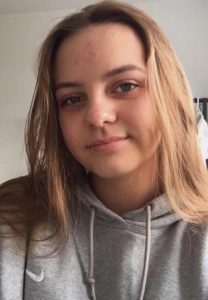 My name is Josefine Bjerregaard Schmidt-Jensen and I'm 16 years old. I live in a city called Roskilde in a big house with my family and some of our friends. I have a brother and a little dog (Otto) and my parents are not divorced.
I'm a student here on "Faarevejle elfterskole". "Faarevejle efterskole" is a school where you live for a whole school year. You can have different subjects and be with your friends all day long. I started in 10. Grade In something we call 10 +. 10+ is a different way to learn things. For example we work in projects and the first half year we focus on mathematics and Danish. We have our math exam in December. The next half-year we focus on English and Danish. I'm looking forward to the rest of the year.
We live in houses with 12-16 students. We have to share a room with at least one person and I really like that. In the earnings we play a lot of cards and play badminton. Before I started here I had a job as a babysitter. And I really liked that.
I love spending time with my family and friends.
---