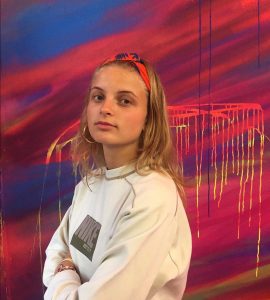 Hey:)
My name is Olivia Nagel Bisleth. I am a 16-year-old girl from Denmark, Copenhagen.
I love living in Copenhagen. It is a wonderful city with a very good vibe and amazing activities. I like going to Tivoli for example. And when it's warm outside, which it is very rarely in Denmark, I mostly go swimming at the beach. There is a place called Islands Brygge, which is a harbor in the middle of the city. Bryggen, which we call it, is a place where my friends and I go swimming and partying in the summertime. It is tons of fun.
I love being with my friends in my spear time. I am mostly a very social person, who loves to be with family and friends. One of the things that my friends and I do, is to visit secondhand stores. I love searching for nice and retro clothes. And then it is really cheap.
I listen to a lot of music. My taste in music is really wide, but I love music in general. My favorite band is a Danish group called Scarlet Pleasure. They are really cool and talented, and besides that, they have a really special and inspiring style. I also sing a lot – but I'm not very good at it, so I just do it for fun.
When I grow up, I want to travel the world. I have already been in Indonesia, Italy and South Africa. I actually lived there for 3 months when I was in 7th Grade. I had a great time there, met a lot of people and learned a lot about myself. I have never been to Iceland before, so I'm very exited about that:)
I started at Faarevejle Efterskole 3 weeks ago now. I have already had such a wonderful time. I love everything here. The people, the food, the vibe. Just everything. I look forward to showing you our school, and to meet you.
---