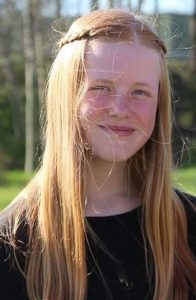 My name is Rebecca Schrøder Christiansen. I am 16 years old, and my birthday is 23rd of August.
I play soccer, and I have been playing soccer for 9 years. Here on the efterskole I also play soccer. It is very funny to be on efterskole.
I do not have any pets, but my grandmother and grandfather have a dog, the dogs name is Holly and she is 1 year old. I am often home to visit my grandmother and grandfather, and it is very "hyggeligt" (cozy). I am also often with my 2 year old cousin.
I have a mother and a father and a little sister. My mothers name is Margit and my fathers name is Carsten. My little sisters is called Line. We live in a terrace house, in Albertslund, which lies in Storkøbenhavn.
The school I went to last year school was Herstedøster skole.
---