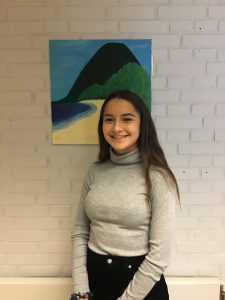 Hi, my name is Rebecca Ramirez Abildtrup. I'm 16 years old and I'm going to tell you a bit about me.
I was born the 7th of January 2002 in a little island called Tenerife located near Africa. This little island, if you didn't know, is part of Spain. And since that day I've lived in Spain, until now of course, because I recently moved to Denmark, which is a really big change. The reason why I moved to Denmark is because I wanted to learn my mothers language, Danish, so you can tell that my mother is Danish. She was born in Denmark, but moved to Spain in 1999, where she met my Spanish father, and after three years, I was born! I also have to big sisters but we don't have the same father.
Throughout my life I've studied in two different schools. The first one was German and the second one was Spanish. Now I'm here in Denmark doing efterskole and I love it.
I've had many hobbies, like horseback riding, swimming or dancing, but now I'm really interested in theater. I think it is really interesting because you get to use your body language a lot.
---