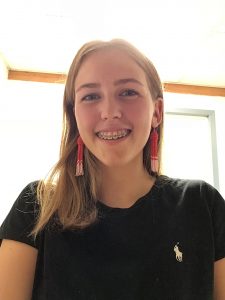 Hello
My name is Sofie Bak and I am 16 years old. Normally I live in Lyngby, which is a town near our capital, Copenhagen. I live with my mom, dad and twin sister in a big house with a garden. My sister and I are very close. She is more like my best friend than my sister. My sister and I have two rabbits. Mine is called Nala and is named after the mother in lion king. My sisters' rabbit is called Plet because he has a white spot on his nose. They are both really old. Nala is almost 10 years old and Plet is 8 years old.
Last year I finished school, and I chose to take a year off at Fårevejle efterskole. I already love it only after 2 weeks. Everybody is very sweet and welcoming. We are divided in to different houses, where around 12 students live together. I live in "Tjørnen", with my roomie Cecilie. She is sweet. I got some other good friends in my house and a sweet boyfriend.
When you start at this school, you have to choose some different classes, like football, theater or art…
I chose art and kayak, but mostly art. One of my biggest hobbies is art and I love to draw even though I don't do it as often as I would like to. I also have a big interest in architecture and design and one day I would like to become an architect.
I also love to sail with my father. We have a boat (a two man dinghy) which we call 'by the way my name is Bodil'. There is a longer story behind the name, don't worry. But this summer we went to the Danish championship and finished as number 5. So we were very happy about it.
After I finish high school, I would like to go on a bigger boat and sail around the world and get a lot of experiences.
I can't wait to meet you and the rest of the class.
Best regards, Sofie
---