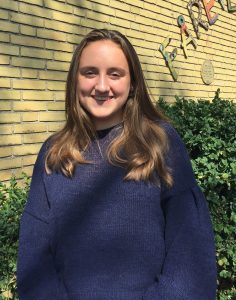 Hey!
My name is Sofie Fly Nielsen. I live in a little town called Høng. I am 16 years old.
At home we're 5 people. Me, my 2 siblings, my mom and my dad. I don't have any animals, but I love dogs. Just now I go to "Faarveje-Fri og efterskole" which is a type of boarding school.
My mom and dad have been divorced for 5 years, but for about 2 years ago they got together again, and I am very happy about that. In the separation me and my sisters moved school to another town, so when I was home at my dads, I needed to take the bus 1 1/2 hour each way. In the weekend before I started in Faarvejle I used to work in a bakery.
At the moment I'm using crutches, because of my knee. I got a strain in the knee last week and now I need to walk with a pad for 6 weeks and I'm not happy about it.
At my school we can choose some other, not school related, stuff, and before I started I chose volleyball, but now I can't play.
My dream in my future is to become a lawyer, but it is a big and hard dream. And right now I'm just looking forward to having a great year, with new experiences and challenges.
That was a little bit about me, bye bye:))
---