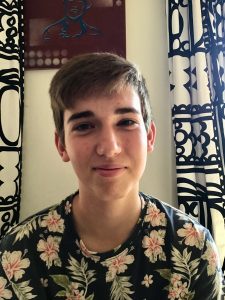 Hi.
My name is Lasse Hermann Gaarden. I am 16 years old and I am in 10th grade. I am at a type of boarding school. I live in a small town with 2.5 K citizens. It's called Gundsømagle. I have a mom and dad, who live together, and 2 sisters, but 1 of them moved out of the house.
I really like to play football and just to be active in general. I have been playing football for almost 11 years, in  two different clubs; G77 and Jyllinge Footballclub.
At my "boarding school" we live together boys and girls in small houses 12-16 persons per house. In my house we are 4 boys and 8 girls together, it's a lot of fun. We are in the third week right now, and the first 2 weeks, we just got to know each other better, but we are going to classes now, I chose something called 10+, it's a 10th grade class that's project based instead of blackboard lessons. I chose football and volleyball for my main subjects, and badminton, Spanish, tree climbing and kayaking as electives. We sleep at our school, and we can choose to go home or stay at the school in the weekends. There are a lot of activities during the day, so I can easily get exhausted; -then I just take a little nap in one of my small breaks.
That's all for now, I am excited to hear from you.
Greetings – Lasse
---